Mía Shiraz 2017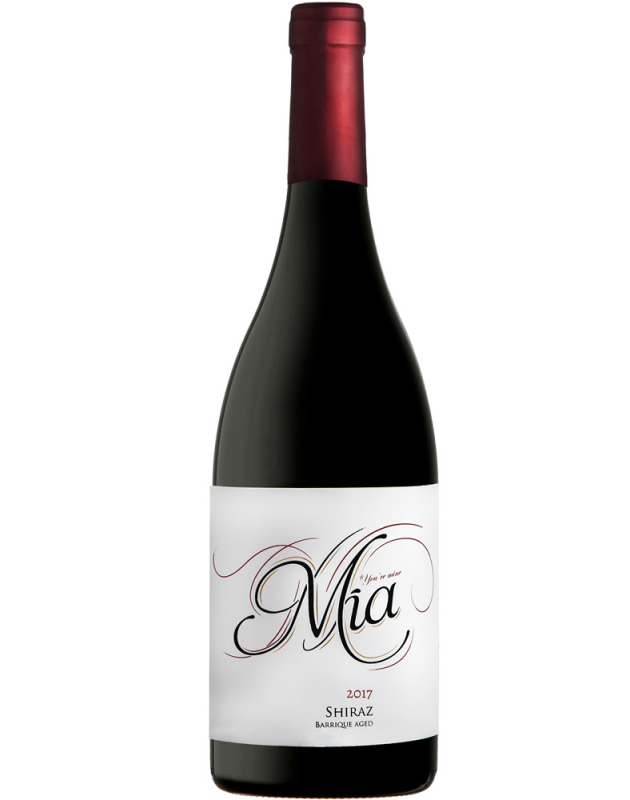 Mía Shiraz 2017
This dark, ruby coloured wine has an intense mix of blackberry and cassis on the nose. The pallet start off
with flavours of ripe prune and dark chocolate, under pinned by a light smokiness with well integrated
oak and soft, silky tannins. This is a perfectly balanced wine that should be enjoyed in good company.
Vinification
The grapes are harvested by hand into bins the morning of 07 March 2017 at 25.0˚B. The grapes are then
cooled before they are hand sorted and lightly crushed. The grapes are cold soaked for 48 hours using
pectolytic enzymes to promote flavour and colour extraction. The juice is inoculated with yeast and
fermentation took place for 5 days at 24-27C. The juice and skin is punched down every 4 hours until it's
pressed. The wine is transferred to 225L French oak barrels for Malolactic fermentation and 18 month
barrel maturation.
Food Pairing
Being a full-bodied wine with lots of structure it will accompany full flavoured dishes like lamb,
pork-belly and fillet very well. It will enhance most venison dishes especially Kudu fillet and will
certainly pair well with cheese, wild mushroom risotto and dark bitter chocolate.
Awards
Vintage 2012
Michelangelo GOLD Award 2014
Christian Eedes Score 89/100
Platter Wine Guide 4 Stars 2016
Vintage 2013
Michelangelo SILVER Award 2015
Vitis Vinifera GOLD 2015
Vintage 2014
Veritas BRONZE Award 2016
Vitis Vinifera GOLD 2016
Vintage 2016
Veritas SILVER Award 2018
Tim Atkin Score 90/100
Vitis Vinifera GOLD Award 2018
Platter Wine Guide 3.5 Stars 2019
Vintage 2017
Platter Wine Guide 3.5 Stars 2020
Technical Analysis
alc
14.43
rs
3.50
pH
3.63
ta
5.80
Wine Information
Accolades
Vintage 2012
Michelangelo GOLD Award 2014
Christian Eedes Score 89/100
Platter Wine Guide 4 Stars 2016
Vintage 2013
Michelangelo SILVER Award 2015
Vitis Vinifera GOLD 2015
Vintage 2014
Veritas BRONZE Award 2016
Vitis Vinifera GOLD 2016
Vintage 2016
Veritas SILVER Award 2018
Tim Atkin Score 90/100
Vitis Vinifera GOLD Award 2018
Platter Wine Guide 3.5 Stars 2019
Vintage 2017
Platter Wine Guide 3.5 Stars 2020

Brand Group
Le Belle Rebelle
Other
Winemaker
Variety
Various
BlendPercent
FoodSuggest
Being a full-bodied wine with lots of structure it will accompany full flavoured dishes like lamb,
pork-belly and fillet very well. It will enhance most venison dishes especially Kudu fillet and will
certainly pair well with cheese, wild mushroom risotto and dark bitter chocolate.
Ageing