Mariëtte Chenin blanc 2018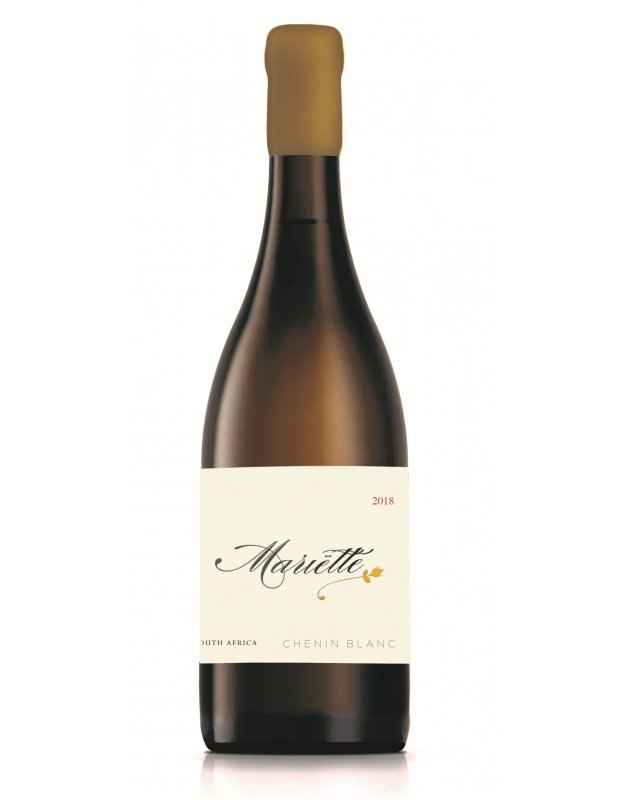 Mariëtte Chenin blanc 2018
A pale straw colour with a bright golden tinge. Soft floral and tropical fruit aromas such as honeysuckle
and melon on the nose, as well as lightly wooded elegance with undertones of vanilla and spice. The
palate is loaded with stone fruit, figs and a of hint citrus, which culminate in a crisp acidity and long
finish. A truly well-balanced beauty that makes this a winemakers' selection.

Vinification
The grapes were harvested by hand into bins the morning of 22 February 2018 at 23.5˚B. The grapes was
cooled before lightly crushed and pressed. The free-run juice was allowed to settle overnight at 8°Celsius
using pectolytic enzymes. The juice is covered with carbon dioxide blankets to prevent oxidation. The
wine is then inoculated, and fermentation took place in 225 litre Burgundy barrels at a constant
temperature of 18 - 20°C for approximately 15 days. After fermentation it is battonaged daily for 3 months
and matured in barrel for 9 months. 20% new oak and the rest second fill.

Terroir
Sandstone soils with a lot of stone fragments. Moderate Mediterranean climate. 1.6 Ha block with yields
at 14 ton per hectare. Age of vines are 34 years in 2019.

Interesting fact
Back in the eighties the plant material got mixed up because the block consists of two different clones.
We marked the clone with the open bunches which do not rot and only use that for this special wine.
The experts believe it is the first plant material of the now popular clone 24.
Technical Analysis
alc
14.5
rs
4.40
pH
3.29
ta
6.60
Wine Information
Accolades
Vintage 2015
Michelangelo DOUBLE GOLD Award 2017
Veritas DOUBLE GOLD Award 2017
Platter Wine Guide 4 Stars 2016
Tim Atkin Score 90/100
Vitis Vinifera GOLD 2017
Vintage 2017
Michelangelo DOUBLE GOLD Award 2018
Miguel Chan Score 93/100
Veritas SILVER Award 2018
Platter Wine Guide 4 Star 2019
Terroir awards District Winner 2019
Vintage 2018
Tim Atkin 2019 SA Report Score 90/100
Michelangelo Chenin blanc TROPHY 2019
Veritas SILVER Award 2019
Platter Wine Guide 4.5 Star 2020
Brand Group
Le Belle Rebelle
Other
Winemaker
Variety
Various
BlendPercent
FoodSuggest
Being a rich and elegant wine, it will pair beautifully with creamy dishes, think chicken with a
creamy mushroom sauce or rich fish dishes like salmon and croute. Mariëtte Chenin blanc and
scallops is also a match made in heaven or try it with a ripe Camembert.
Ageing