Mariëtte Methode Cap Classique Chardonnay 2014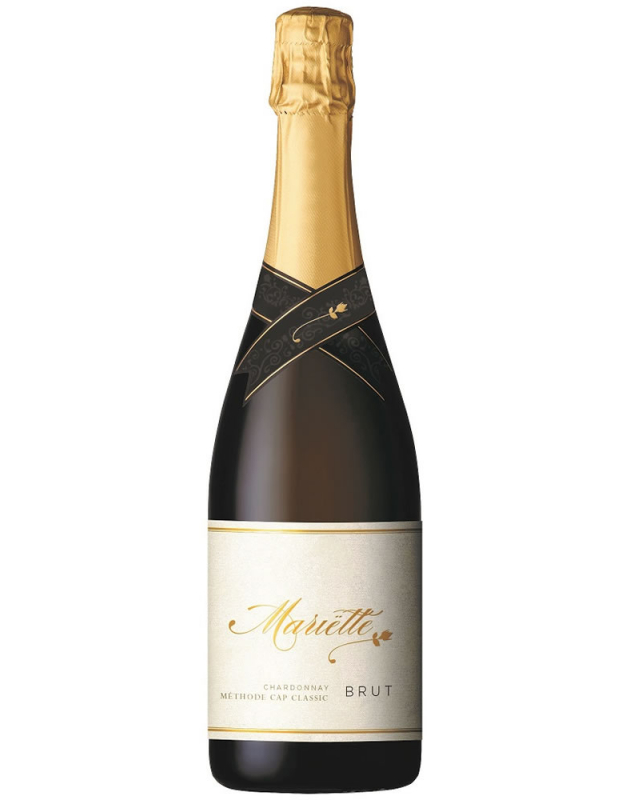 Mariëtte Methode Cap Classique Chardonnay 2014
Mariëtte Méthode Cap Classique has a pale golden colour with a constant stream of delicate bubbles.
Light, yeasty aromas with a lemon cream richness and biscuit on the palate follow tones of citrus and
pear. Its well-balanced, classic elegance makes this beauty the winemaker's selection.
Vinification
This Méthod Cap Classique was made in the traditional way. The grapes are harvested by hand into bins
the morning of 15 February 2014 at 19.8˚B. The grapes are then cooled before it is pressed whole bunch.
The free-run juice was allowed to settle overnight at 8°Celsius using pectolytic enzymes. The juice is
covered with carbon dioxide blankets to prevent oxidation. The wine is then inoculated, and
fermentation took place in stainless steels tanks at a constant temperature of 12°C for approximately 15
days. Second fermentation took place in the bottle where after it was matured on the lees for 50 months.
Food Pairing
Being a rich and complexed MCC it will pair beautiful with exotic seafood dishes such as fish
carpaccio, caviar, oysters and sushi. Mariëtte MCC and shellfish with a rich sauce is also a
match made in heaven or try it just on its own to celebrate any occasion.
Accolades
Vintage 2013
Michelangelo GOLD Award 2017
Veritas SILVER Award 2017
Platter Wine Guide 4 Stars 2017
Michelangelo GOLD Award 2018
Tim Atkin Score 90/100
Veritas GOLD Award 2018
Platter Wine Guide 4 Stars 2018
Listed at The Test Kitchen
Vintage 2014
Tim Atkin Score 91/100
Michelangelo DOUBLE GOLD Award 2019
Veritas SILVER Award 2019
Platter Wine Guide 4 Stars 2020
SA Sparkling Wine GOLD Medal
Amorim Cap Classique Challenge BRONZE Medal
Technical Analysis
alc
rs
pH
ta
Wine Information
Accolades
FoodSuggest
Range:

Mariëtte Wine Range