Mariëtte Syrah 2017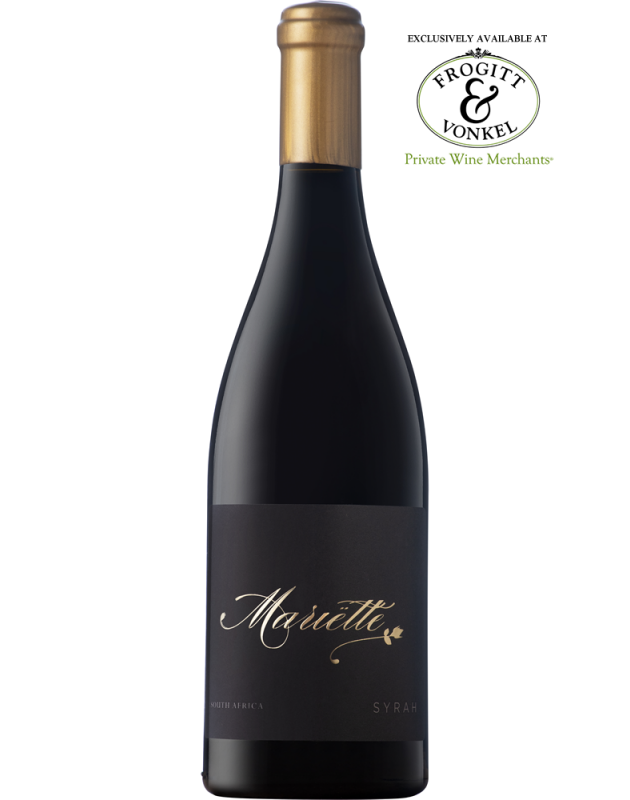 Mariëtte Syrah 2017
A beautiful deep, inky burgundy colour. It's a full-bodied wine with a complex nose of black and white pepper, blackcurrant and spice. The palate is intense with ripe blackberries, plum and a hint of dark, bitter cocoa. The long-lasting palate ends with well-balanced tannins with a silky soft finish. A truly well-balanced beauty that makes this a winemakers' selection.
Note that this wine is EXCLUSIVELY available via Frogitt & Vonkel.TO PURCHASE THIS WINE CLICK HERE
Technical Analysis
alc
15.0
rs
3.90
pH
3.66
ta
5.50
so2
Wine Information
Accolades
Vintage 2014
Platter Wine Guide 4 Stars 2017

Vintage 2015
Terroir Awards District Winner 2019
Sommelier Selection Listed 2019
Michelangelo GOLD Award 2019
Veritas BRONZE Award 2019
Platter Wine Guide 4 Stars 2020

Vintage 2016
Michelangelo DOUBLE GOLD Award 2020
Terroir Awards Breedekloof District Winner 2020
Platter Guide 4 Star 2021 (86 points)
Veritas SILVER OUTSTANDING Award 2020
Brand Group
Mariëtte Wine Range
Other
Winemaker
Variety
Shiraz
BlendPercent
FoodSuggest
This complex, full bodied wine will pair well with red meat with allot of flavour such as matured beef fillet with peppercorn sauce or Karoo lamb with rosemary. Venison dishes like springbok fillet with fresh coriander or Kudu will accompany the beautiful wine nicely. For the sweet tooth, we will recommend chocolate mousse or baked dessert dressed in layers of dark chocolate.
Ageing
Cellar
The grapes are harvested by hand into bins the morning of 08 March 2017 at 25.0˚B. The grapes are then cooled before they are hand sorted and lightly crushed. 10% of the grapes is not destemmed and added to the rest whole bunch – this adds extra spiciness to the wine. Then 15% of the juice is bleed to get a more complex skin to juice ratio for more colour and flavour. The grapes are cold soaked for 48 hours using pectolytic enzymes to promote flavour and colour extraction. The juice is inoculated with yeast and fermentation took place for 5 days at 24-27C. The juice and skin is punched down every 4 hours until it's pressed. The wine is transferred to 225L French oak barrels for Malolactic fermentation and 30 month barrel maturation.
Range:

Mariëtte Wine Range